Will It Work? Electric Abs | Elvis Duran Exclusive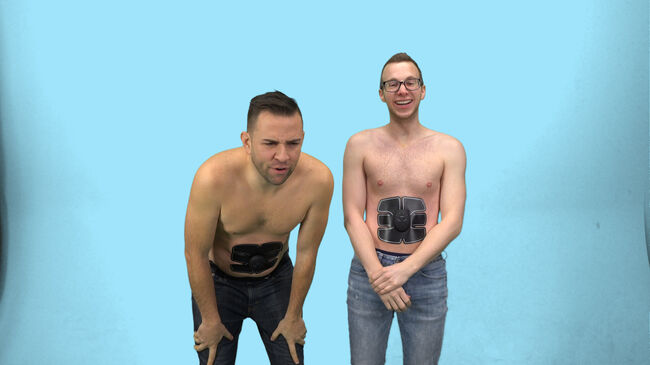 Everybody wants abs, right? Getting a six pack pack is hard work, though, and TBH who has time for that? A new solution to this age old problem may have arrived just in time for summer to help get those beach bodies ready. Electric Ab Belts are a form of Electronic Muscle Stimulation (EMS) that supposedly strengthen and flatten the tummy without much effort. All you have to do is stick the pad that creates the electric currents on your stomach and (allegedly) abs will soon appear. So the question is: do electric ab belts work? Jake and Garrett put them to the test on the latest episode of Will It Work?
Jake and Garrett braved the EMS to put the Elecrtic Abs to the test. They both definitely admit it was uncomfortable - Garrett even said he imagined that the feeling was similar to a woman experiencing labor contractions - and struggled to stick it out for the full twelve minutes. The electric current made their muscles contract involuntarily, which is what is supposed to provide an easier way to burn fat. And by "easier," what we really mean is "without exercise." The Electric Ab belts that Jake and Garrett use in Will It Work? stimulates muscles to contract and relax, a process that is designed to mimic normal muscle contraction during exercise.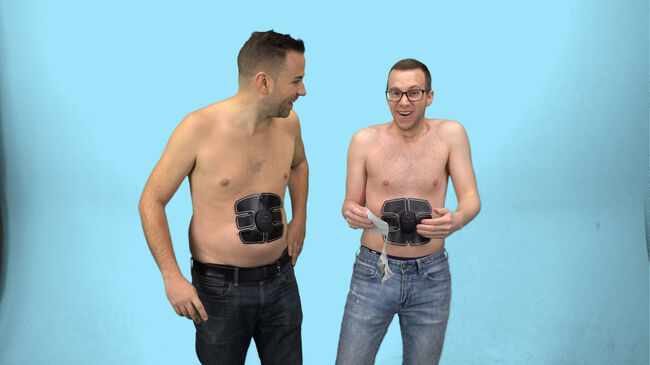 While they could feel the contacting muscles in their stomachs, which made them feel like it was working, there is still some doubt that these devices are the best way to get fit. The University of Wisconsin - La Crosse conducted a study to see what the effects of these ab belts really are. According to Livestrong, the participants in the study underwent electrical stimulation three times each week for eight consecutive weeks. The findings were published in a 2002 issue of the "Journal of Strength and Conditioning Research," stating that ab belts cause no significant changes in weight, body fat, muscle strength or tone. This makes sense considering that the FDA has not approved most ab belts currently on the market.
It's always fun to watch Jake and Garrett squirm around (and think they understand what labor contractions feel like), it turns out that maybe these interesting Electric Abs aren't actually the most efficient way to get ripped. Sadly it seems like that it's still a healthy diet and a regular exercise routine. It's nice to imagine a world where you can slap on an Electric Abs belt, lay on the couch, binge Gilmore Girls on Netflix for, like, the hundredth time and magically get abs, but this is the real world unfortunately. Maybe the next product Jake and Garrett try on Will It Work? will show us the secrets to being both really lazy and really fit.
Check out Will It Work? Electric Abs below:

Elvis Duran
Want to know more about Elvis Duran and the Morning Show? Get their official bio, social pages & articles on Elvis Duran and the Morning Show!